Have you ever wondered where we get the incredible hands-on exhibits that will fill the galleries in the new building? Teams of exhibit developers design and create each experience. We are highlighting some of these developers and sharing the process of making an idea become an interactive exhibit for our galleries. In addition, we will look at the education and career paths of some of these talented individuals.
Blue Rhino Studio:  Soil Towers, Big Teeth, Cow Monitor, Human Kaleidoscope, Tubulum, and Air Cannon
"I am convinced they can build just about anything and it will look amazing when completed," noted Kim Eslinger, North Dakota's Gateway to Science (NDGTS) Gallery & Exhibit Director. "I love visiting their studio because I am never sure if I will be facing off with a life-sized T-rex or a super-sized water bear when I walk in."
Eslinger is referring to Blue Rhino Studio, full-service in-house artistic fabrication studio specializing in custom work for museum, visitor center, and zoological institutions. Located in Eagan, Minnesota, the 16,000 square foot facility is home to a tightly knit creative team of skilled artists and

craftspersons. Blue Rhino works in a wide range of styles, producing two- or three-dimensional pieces on any detail level, and diverse exhibits that include sculpture, mural, carpentry, and metalwork with its full-time in-house staff. Over the last 22 years, Blue Rhino has become a leader for artistic quality and value in the industry.
"Blue Rhino Studio has been our go-to fabricator for exhibits that require an extra artistic touch and a fearless approach," Eslinger said. "They are responsible for the design and fabrication of the Soil Towers, Big Teeth and its related traveling pieces, Tubulum, Air Cannon, Human Kaleidoscope, and our Cow Monitor exhibits. Their working relationship with the Science Museum of Minnesota helps everyone maintain a good line of communication as our projects progress."
Blue Rhino has worked closely with Eslinger to develop a number of exhibits, starting with four tall columns highlighting the soil composition of separate regions in North Dakota and the plants and grasses that grow there.  "As that project wrapped up we have moved through a series of other displays and activities," noted Blue Rhino owner Tim Quady. "A massive model of teeth to teach oral hygiene, a cow milking monitor station showing technology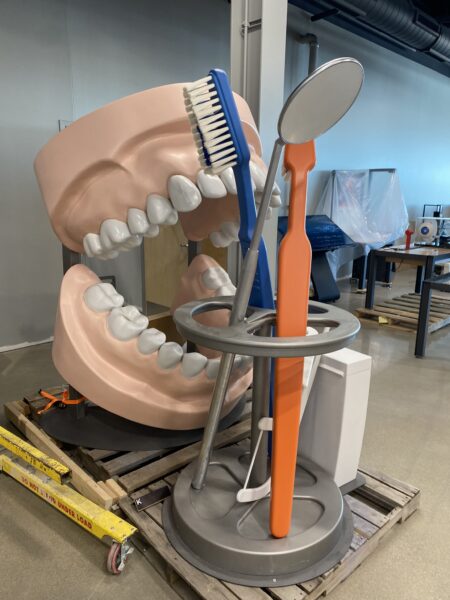 associated with dairy farming, a large Tubulum instrument made of PVC for kids to play, a mirrored 'human kaleidoscope,' and a gigantic air cannon."
How does the process to develop a new exhibit for a client like NDGTS work? "Kim has come to us with every exhibit design and all content thought through and sketched out," Quady explained. "We walk through her designs and discuss process. She has been exceptionally open to any thoughts we have had on design, materials, and details we feel might be interesting or helpful from a fabrication point of view. In general, she has had an exceptionally clear vision of what she wants so we have primarily fabricated her visions."
The most challenging part of the projects was budget. Many of the elements Blue Rhino created for NDGTS are somewhat complex or required a fair amount of R&D that, under normal circumstances, would have been difficult to tackle with the dollars budgeted per item. "Kim found us during the pandemic when Blue Rhino had more time than usual," said Quady. "So we were able to spend more time on them and are extremely appreciative for the projects during an extremely slow time."
Quady noted while there are many commonalities in the materials and processes used by Blue Rhino, most things they do are a first for the studio. "That said we've never made huge teeth!" he shared. "Or PVC pipe musical instruments.  Or a massive air cannon!"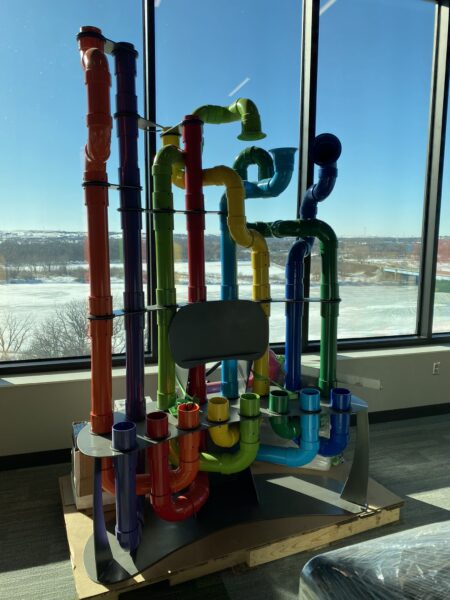 Every member of the Blue Rhino staff was an art major in college, but that is not a prerequisite for the team members at Blue Rhino. They work as a team and collaborate to build on what they've done in the past and to continue to raise the bar on the work they do.  "Literally every person on the Blue Rhino team has been involved in some aspect of the pieces produced for NDGTS," said Quady. "From delicate botanical models to huge teeth, steel structures to columns of soil, everyone brought a little bit of their specialties to the table."
Quady summed up the experience, "Everyone at Blue Rhino is very appreciative to have been trusted to create some really cool pieces for NDGTS!"
We cannot wait for Blue Rhino's really cool creations — Soil Towers, Big Teeth, Cow Monitor, Human Kaleidoscope, Tubulum, and Air Cannon — to be installed in the new building for our visitors to enjoy!