Saturday, May 6, 11:00 AM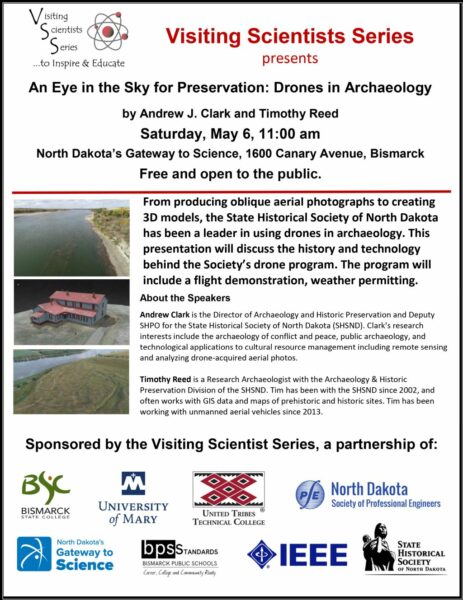 The Visiting Scientists Series (VSS) was established to inspire and educate young people and the public about Science, Technology, Engineering and Mathematics (STEM).
Our approach: VSS showcases scientists working in a variety of fields, with the intent to reach a diverse audience and to inspire local students to consider careers in science. VSS provides resources for educators, educates members of technical organizations, and also informs the community on science and technical issues.
Sign Up for Reminders
Receive reminders of upcoming Visiting Scientists Series presentations! Please provide your contact information below. Thank you.
Visiting Scientists Series Partners
The Visiting Scientists Series is a partnership of Bismarck State College, Bismarck Public Schools, North Dakota's Gateway to Science, ND Society of Professional Engineers, Institute of Electrical & Electronics Engineers, State Historical Society of North Dakota, University of Mary, and United Tribes Technical College.
Past Presenters
Presenter
Title
Year
Presentation Title
Edward Gonzales
Goddard Space Flight Center
2022
My Path to NASA
Dr. Jack Bacon, PhD, PE
Safety Lead, NASA Orbital Debris Program Office
2021
Engineering Better Worlds
James A. Peliska, Ph.D.
Catherine Brissette, Ph.D.
Joshua Wynn, M.D., M.B.A., M.P.H
2020
Covid-19 Pandemic Discussion Panel
Sam Van Aken
2020
The Tree of 40 Fruit and The Open Orchard
Dr. Gurijot Dhaliwal
Research Faculty in the Intertribal
Research and Resource Center at UTTC
2020
Developing Spray Foam Insulation from Soybean Oil
Becky Barnes
Paleontologist,
ND State Historical Society
2019
Paleontological Digs Across North Dakota
Cayla Bendel
Pheasants Forever
2018
Pollinators!
Cami Dixon
2018
Birds, Butterflies, and Blue Stem: Thoughts on Managing Prairies for Wildlife
Dale Heglund
Tony Msumba
Margaret Nordlie
Karen Ryberg
2018
Science Café: Lightning Talks
Clyde Eisenbeis
2018
Cochlear Implants
Dr. Jim Maskey
University of Mary
2018
Moose Ecology
Sally Prasch
2018
The Art & Science of Glass
Mandy Guinn, M.S.
United Tribes Technical College
2017
Out of the Darkness: Shedding Light on the North Dakota Bat Species
Karen Ryberg
U.S. Geological Survey
2017
Earth as Art Exhibit & Presentation
2017
Dream Big: Engineering Our World - A film about engineering
John Nordlie


UND School of Aerospace Sciences
2017
Stratospheric Flying on a Budget: Unmanned High Altitude Ballooning
Blake McCann, Ph.D.

National Park Service
2016
Elk Management at Theodore Roosevelt National Park: Policy, Politics, and Practicality
Mike Gunsch, Houston Engineering
Julie Axtman, Houston Engineering
Mark Zimmerman, ND Parks & Recreation
Karen Ryberg, U.S. Geological Survey

2016
Science & Engineering of a New State Park
Dr. James McClintock
Marine Biologist
2016
Lost Antarctica: Adventures in a Disappearing Land
Dr. Jack Bacon
NASA Systems Analyst
2016
Space Junk: NASA's Orbital Debris Program
Amanda Wangler
Project Manager
Basin Electric Power Cooperative
2015
Wind Generation in North Dakota
Joseph Vacek, J.D.
Professor
University of North Dakota
2015
Unmanned Aircraft Systems: State of the Industry
Dr. Maureen Clemmons
President of Transformations
2015
Wind, Pyramids and Obelisks
Galen Bren
Recycling Specialist
City of Bismarck
2015
Bismarck's Recycling Program: First Year Review
Dr. Bob Willenbring
Mathematics Department Chair, University of Mary
2014
Math and Basketball: How Statistics is Changing Sports in the 21st Century
Dr. Michael Lares
Professor, University of Mary
2014
Behavior and Enrichment Studies at the Dakota
Zoo
Dr. Maureen Clemmons
President of Transformations
2014
Wind, Pyramids and Obelisks
Dr. Kristine Nichols
Soil Microbiologist
2013
Living Soil - Where does our food 'purchase' nutrients?
Dr. Loren Wold
Cardiovascular Health Expert
2012
Where you live can make you sick: Environmental influences on health and disease
Dr. Rebecca Phillips
Research Scientist
2012
Connections between Remote Sensing, Food Production and Conservation
Dr. Jack Bacon
Futurist and NASA Engineer
2012
The Parallel Bang
Jon Rask
NASA Research Scientist
2012
Growing Food in the South Pole Greenhouse, Antarctica
Jason Makansi
Independent Energy Consultant
2011
Lights Out - The Coming Electricity Crisis
Annie Carlson
Executive Director of FARRMS "Foundation for Agricultural and Rural Resources Management and Sustainability"
2011
Feeding Ourselves First — The Importance of Bioregional Food Sufficiency
Dr. Robert Bates
Food Scientist
2011
The Chemistry and Alchemy of Brewing
Karen Ryberg & Gregg Wiche
USGS
2010
Flooding in North Dakota
Lynn Helms
Director, ND Dept. of Mineral Resources
2010
Oil in North Dakota
Dr. Joseph Kerski
GIS Program Coordinator
2010
GIS-for a Sustainable World."Isn't that Spatial"
Dr. Roy Spencer
Global Warming Scientist
2009
Global Warming Fear
Dr. Kalpana Katti
NDSU Nano Technology
2009
Nano World
Joseph Vacek
UND faculty Space Center
2009
Spy Planes over your Backyard
Bob Becker
Chemistry Demo Guru
2008
Chemistry Workshop
Shirley Corriher
Food Scientist
2007
Properties of Food
Dr. Kent Martin
Physician
2007
Influenza: Past, Present & Future
Dr. Heidi Hammel
Planetary Astronomer
2006
Playing with Planets
Dr. John Fortman
Chemist
2005
The Chemistry of Toys
Dr. Jack Bacon
NASA Engineer
2004
Space Station-Carbon Based in the future
Dr. Jack Bacon
NASA Engineer
2002
International Space Station