Thank you for your interest in holding an event at the new North Dakota's Gateway to Science building. Please complete the form below to tell us about your event. We will contact you to discuss details and schedule your event. Questions? Find answers in our FAQs. Planning a catered event? See our Preferred Caterers List.
Rental Fees
View a PDF of our rental information
Room
Monday-Friday
8am - 5pm
Monday-Friday
5pm - 10pm*
Friday - Saturday
10am - 1am*
Sunday
1-5pm
1
Innovation Space
$1120
$1200
$3000
$800
2
Classroom A or B
$200
$375
$900
$100
3
Classroom A and B
$400
$750
$1800
$200
4
Conference Room
$200
$375
$900
$100
5
Deck
$800
$625
$1500
$400
*If time frame is exceeded, a $300/hour minimum fee will be charged.
Fees include setup and teardown of tables and chairs, basic audio equipment, and janitorial service.
Security is provided for all rentals after NDGTS business hours.
Weddings will only be scheduled for Friday or Saturday.
No alcohol may be served during regular business hours.
Please contact the Events Coordinator at 701.258.1975 or kristie@gscience.org with questions or reservation requests.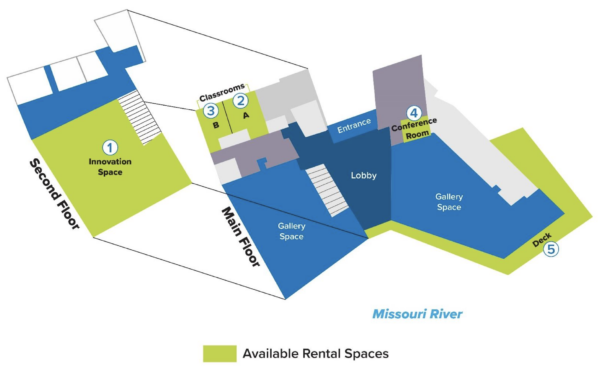 Rental Inquiry
"*" indicates required fields