The Water Play gallery invites visitors to explore the amazing properties of water. Fun activities will offer opportunities for all ages to learn how water flows and behaves under pressure, how we manage and use it, and how objects float and move through it. Visitors put water to work for practical, playful, and artful results.
---
Water Table
Sponsored by Berk and Kay Strothman [lead], The George and Marcia Good Family Foundation, and Bismarck-Mandan Home Builders Association
A fun-filled Water Table will be fully loaded with interactives such as a dam and turbine, boat lock, build-a-pipe, vortex and laminar launcher, water sculpture, and more. The design includes multiple table heights to make it accessible to even our youngest visitors.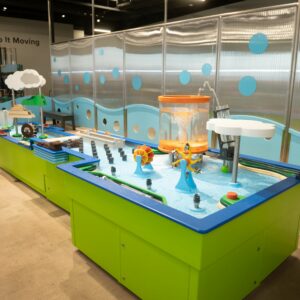 ---
Working Water
Sponsored by Bartlett & West [lead], ND Natural Resources Trust, and Keith and Beth Demke
The Working Water exhibit's interactive features represent different aspects of Bismarck-Mandan water origins, treatment, and supply. Visitors use three pump and spray stations to activate a variety of elements by hitting them with streams of water. For example, visitors may aim water at a turbine that spins and turns on a light, and other things that show how we use water (watering lawns, etc.) and where it goes (storm drains, wetlands).